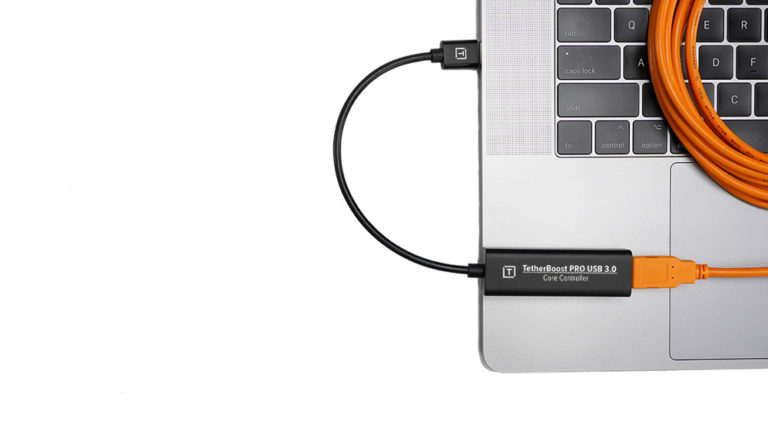 Shooting tethered with a USB 3.0 camera has its challenges. Photographers using some of the most popular on the cameras on the market, including USB 3.0 cameras from Nikon, Canon, Phase One, Mamiya Leaf, Pentax, and Sony can experience dropped tethering connections or are unable to get a tethered connection at all. The TetherBoost Pro USB 3.0 Core Controller provides consistent power to maintain a stable connection for tethered image transfer when using a DSLR or medium-format digital back system connected to a computer via USB 3.0 cables – now at distances up to 65 feet. This streamlined solution in a durable aluminum housing alleviates current frustrations among photographers experiencing dropped tethering connections or who are unable to get a tethered connection started at all.
NYC DigitTech George Brooks explains why photographers need a TetherBoost Pro USB 3.0 Core Controller:
"Cameras like the Nikon D810, Canon 5D Mark IV Phase One IQ series, and Sony A7Rii that use USB 3.0 for tethering present a new issue. Unlike USB 2.0, USB 3.0 devices can draw a maximum of 900mA of current. This is no problem for the more robust ports on a Mac Pro or PC workstation, but the USB ports on MacBook Pros and iMacs do not offer the same performance. While they can generally supply enough current to sustain a connection with a standard 15-foot tether cable, the same cannot be said for longer cable runs. That's where the TetherBoost comes in. For DSLR cameras that use the USB 3.0 Micro-B Connection like the Canon 5D Mark IV, 5DS, Nikon D810, and Sony A7Rii my experience has shown that a TetherBoost setup is required in order to use cables longer than 15 feet when tethering with a MacBook Pro. I like to use the TetherBoost when tethering to my MacBook Pro as well, just to be safe."
TetherBoost Pro USB 3.0 Core Controller Specifications and Connection Setup
TetherBoost is a highly-compatible, high performance USB 3.0 controller
Contains a USB 3.0 Super Speed transmitter/receiver physical layer (PHY) and a USB 2.0 High-Speed PHY
Supports Super Speed, Hi-Speed, and Full-Speed USB connections and is fully backward compatible to all USB 2.0 and USB 1.1 hosts
Implements multiple transaction translator (TT) architecture which provides dedicated data to each downstream port, guaranteeing full speed data at each port
Compliant with USB Specification Revision 3.0
Compliant with USB Battery Charging Revision v1.2
On-chip 8-bit micro-processor
Multi Transaction Translator (TT) architecture
Integrated USB transceiver
Smart power management
Supports fast charging function, allowing portable devices to draw up to 1.5A
TetherGuard Extension Lock 
Included in the TetherBoost Pro USB 3.0 Core Controller is a TetherGuard Extension Lock, an effective locking device that keeps cable ends protected from frustrating disconnects, damage, and electrical hazards. The simple clam-shell design enables you to close the TetherGuard Extension Lock around each end of the TetherBoost Pro and USB 3.0 cable, then twist to lock the cords securely and safely together. The TetherGuard Extension Lock comes with two included rubber washers that waterproof your connection, further protecting your connection and holding the cable in place. 
In short, the TetherBoost Pro USB 3.0 Core Controller has the ability to fix bad tethering connections and even allows photographers to tether beyond 15 feet from their camera to their computer. Owning a TetherBoost Pro USB 3.0 Core Controller can solve connectivity problems and even extend their tethering cable when needed. It's a must-have for the everyday photographer.
Get The Gear