Food and product photography are in high demand, and there may be no style of photography where shooting tethered is more important. One of the biggest challenges in this type of photography is getting all of the principals agreed with our direction. Many shoots will have the business owner, a food/product stylist, assistant, and photographer all interacting, making communication key throughout the day.
For many product and food photographers, flat lay photography is a great way to showcase multiple items in a shot in an aesthetically pleasing composition. In flat lay photography, a flat lay is simply a photo of objects arranged on a flat surface, captured from directly above. Some people refer to this angle as a bird's eye view or top down, and it's a great way to showcase everything from product photography to food photography.
Wired Setup
A wired setup can be beneficial for product or food photography because it allows you to set up your layout with ease and flexibility. Connecting to a TetherPro Cable while setting up your camera at an overhead angle gives you the opportunity to review images instantly without having to move your DSLR or Mirrorless camera. In addition, keeping your cable secured is important. This is where the TetherBlock comes in handy; the TetherBlock gives you a sense of peace when it comes to the dangers of tugging a cable or tripping hazards. Combine these with the Rock Solid 2-Head Cross Bar Side Arm, Rock Solid Master C-Stand, and Dual Wing Sand Bag and you've got yourself a setup like no other.
Wireless Setup
Don't want to worry about cables while you have your flat lay setup on your food or product photography? This can be easily resolved by a wireless setup. Remove the danger of tripping, tugging, or tangles with the Air Direct Wireless Tethering System. Match this with the Rock Solid 2-Head Cross Bar Side Arm, Rock Solid Master C-Stand, and Dual Wing Sand Bag for the ultimate wireless setup.
TetherPro USB Cable and TetherBlock
TetherPro USB cables are used by the best in the industry and use the fastest and most reliable transfers to keep your tethered workflow running at optimal speeds. With their high-visibility orange color you'll ensure your cable is seen on set, and the cables are fully shielded and plated to protect against external signal interference.
Food and product photographers are often moving around to get different angles, and a trip or tug can cause your tether cable to become dislodged or cause serious damage to your camera's data ports. The TetherBlock is a must-have for photographers shooting tethered both handheld and using a tripod. The TetherBlock locks your tethered cable into place, keeping your cable or cord plugged in and your camera's sensitive data port protected from damage. If you have a Arca-style ball head, we recommend the TetherBlock Arca.
Air Direct and Rock Solid 2-Head Cross Bar Side Arm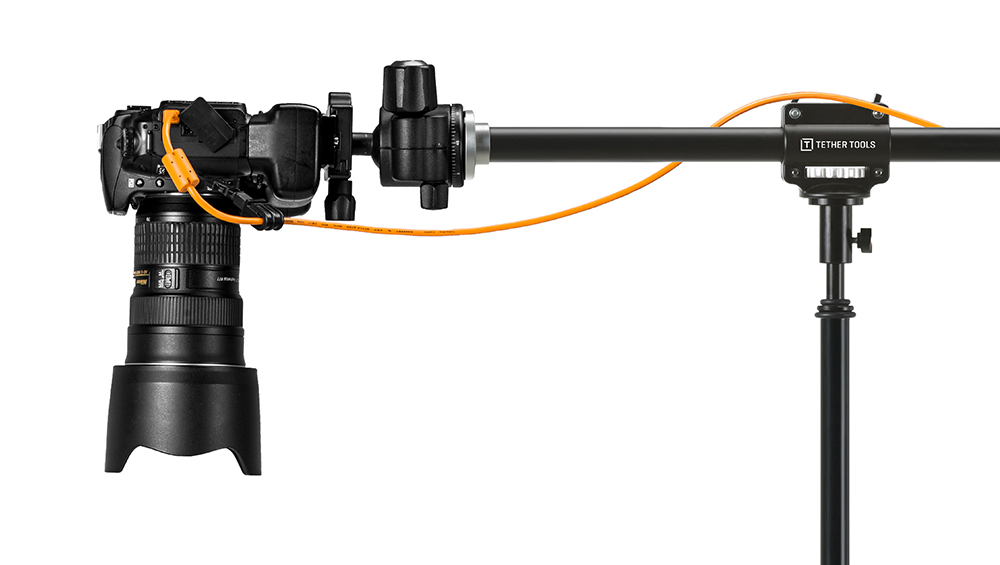 From cookbooks in bookstore windows to magazine covers you pass in the grocery store check outline, it is hard not to notice the flat lay camera view's popularity in photography. Flat lay shots are also incredibly popular in creating stylish product shots or knolling photography for social media and the web.
A flat lay or overhead shot setup is a great tool to have in your arsenal. The one key to making this type of photography super easy is a tripod or stand with the Rock Solid Cross Bar Side Arm. The Cross Bar is 25″ (63.5cm) in length and allows photographers to extend the camera over the shot. It's also absolutely necessary to shoot tethered once the camera is setup on the side arm. Leaning over your plate of food or product, struggling to take the photo often causes movement in your shot resulting in a photo that's not as clear or crisp as it would be using a tethered setup with the Rock Solid Cross Bar Side Arm. Once your camera is connected and tethered to a computer, you can trigger the camera, check focus, change settings, all without having to move the camera. In addition, you can also utilize the Air Direct Wireless Tethering System for this setup if you wish to go wireless. This allows you to tether directly to a laptop, tablet or phone using the software of your choice anywhere you want with no real danger of tripping over a cable.
Dual Wing Sand Bag and Rock Solid Master C-Stand
The Rock Solid Master C-Stand meets the height and flexibility requirements of today's hard-working photographers and filmmakers, whether that's a sitting workstation, video monitor setup, or a studio light setup. This high-quality C-stand in non-reflective matte black features spring-loaded risers for quick height adjustments, and the risers lock down with ease with large ergonomic knobs. Pair this with the Dual Wing Sand Bag, which is perfect for securing the base of the Rock Solid Master C-Stand so your DSLR or mirrorless camera doesn't tip over on the shoot. The attached strap handle makes carrying the bag easy while giving you the option to hang the bag to secure a tripod.
Get The Gear