If you're looking to stuff a stocking with super sweet tech gear, or just not looking to spend too much on a gift for a friend or loved one, we have you covered. Below you'll find gifts ranging from $5 to $50 that are guaranteed to put a smile on the face of the photographer or videographer in your life. Shop fast,
Tether Tools
can only guarantee delivery by Christmas if you make your purchase by December 14.
Rock Solid "A" Clamps
Rock Solid "A" Clamps
are sold in both 1" and 2" sizes and come in handy for a wide variety of uses. Non-reflective, matte black with a coated handle and tip, these clamps feature spring-operated jaws that hold a variety of material efficiently and securely. Secure backdrops, bounce cards, cables, shot lists, scripts, and reflectors or just about anything where an extra set of hands is helpful.

TetherPro USB Cables
Need a backup cable or know a photographer friend who should start shooting tethered?
TetherPro USB cables
incorporate all the latest technology ensuring consistent and reliable conductivity. Designed to the highest USB specifications to filter out signal noise and reduce transmission errors, all cables are fully shielded to protect against external signal interference.
JerkStopper Camera Support
This holiday season there may be plenty of jerks out and about, but the JerkStopper won't be able to help you there. What the
JerkStopper Camera Support
can do is remove the stress and strain from a cable or cord, ensuring your tethered cable stays plugged in and your ports protected from damage.
RapidMount Q20
Have a GoPro Action Camera? Mount it to a wall with a
RapidMount Q20
. The RapidMount Q20 mounts accessories such as action cameras, phones, and small items to nearly any smooth, painted, or lightly textured vertical surface using the included specially-formulated, pressure-activated RapidMount adhesive strips. The Q20 is perfect for securing GoPro action cameras for time-lapse capture, behind-the-scenes videos, or recording video from unique angles.
Tether Tools Organization Case
Find your cables and other accessories quickly while keeping them protected in our
Tether Tools Organization Case
, an easily accessible, durable storage case for tethering cables, straps, and cable retention devices.
Tether Tools Dual Wing Sand Bag
The
Tether Tools Dual Wing Sand Bag
. is saddle style so it can be draped over a stand leg or boom, hung from a tripod with the included D ring, or hung from a J-Hook by the strap handle. The Tether Tools Dual Wing Sand Bag is made of durable black Cordura nylon and has two separate compartments. The bag is built rugged and double stitched for increased strength. Fill with sand or shot, not snow!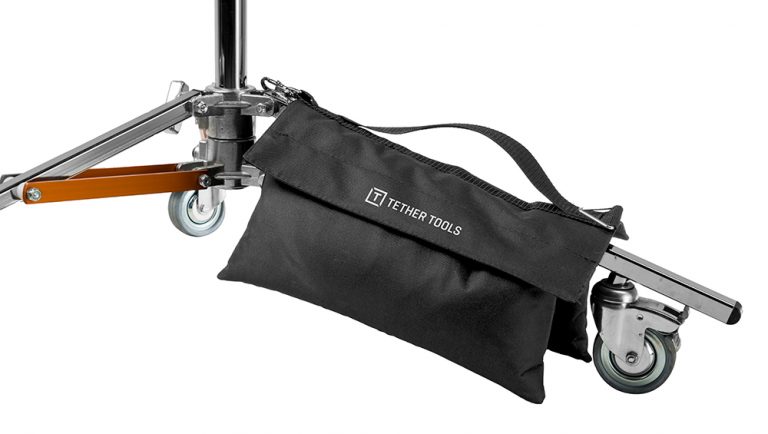 LoPro Phone Mount
The
Rock Solid LoPro Phone Mount
is a smartphone/accessory holder, designed for mounting a phone, action camera, or small device on any 1/4″-20 compatible arm, clamp or grip. The LoPro hold the largest of phones, including the iPhone X and even external hard drives. Purchase the
LoPro Phone Utility Mounting Kit
to mount your phone or device just about anywhere imaginable.
Rock Solid External Battery Pack (10,000 mAh)
The
Rock Solid External Battery Pack
features a high-capacity 10,000 mAh, rechargeable USB battery pack which can charge any USB compatible devices such as a tablet, smartphone, or iPod. The power bank contains a rechargeable lithium-polymer battery, and an internal microchip controlling the voltage according to the device needs to be charged and will provide up to 50 hours of power to an iPhone and 20 hours to an iPad.
Rock Solid Master Clamp
The
Rock Solid Master Clamp
has a smorgasbord of uses, it will hold just about anything else including cameras, strobes, flashes, umbrellas, and more. Made of lightweight cast alloy, the Master Clamp and can be securely mounted on any tube from 0.5″ to 2.1″ in diameter. A unique wedge insert for clamping to any flat surface or shelf is also included. The built-in locking 5/8″ (16mm) Baby socket allows for dozens of attachments and arms designed to hold cables, lights, Tether Tables, and more.
JerkStopper Extension Lock
The
JerkStopper Extension Lock
is an effective locking device for cables and cords that keeps your cable ends protected from frustrating disconnects, damage, and electrical hazards. The simple clam-shell design enables you to simply close the JerkStopper Extension Lock around each end of the cable or cord, and then twist to lock the cords securely and safely together. The patented JerkStopper Extension Lock protects the sensitive electronic cable ends and stops unwanted disconnects for USB extension cables, HDMI cables with couplers, and protects power cords for lighting and tools.
StrapMoore
The
StrapMoore
is the ultimate gripper that secures to the leg of any tripod, light stand, pole, beam, table, chair and much more. Use it to secure a laptop power brick, charger, phone, off-camera flash, transmitter/receiver, microphone, battery, external hard drive or anything else that is handy to have nearby during a photo or video shoot.
Aero Cup Holder
Tether Table Aero owners, outfit your workstation (and stay hydrated) with the
Aero Cup Holder
. The Aero Cup Holder attaches to the Tether Table Aero to hold beverages, small tools or accessories and keep them near your workstation. The cantilevered design attaches to the side of the table and tucks away nicely when not in use.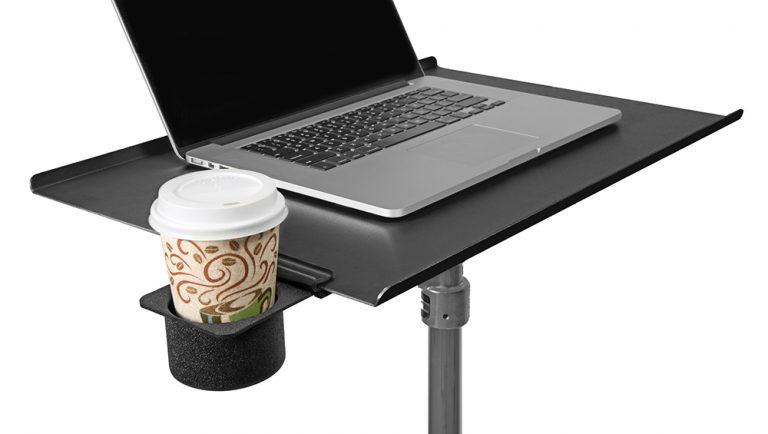 Tether Tools Gift Certificate
Give the gift of high-quality gear with a
Tether Tools Gift Certificate
! It's simple, easy-to-send, and your recipient will love it. If you'd like the gift to remain a surprise, select "Send store credit to me" at time of checkout and you'll receive the certificate information to present as you see fit.
Tech the halls this holiday season with high-quality gear from Tether Tools! For more information and to shop now, visit TetherTools.com.