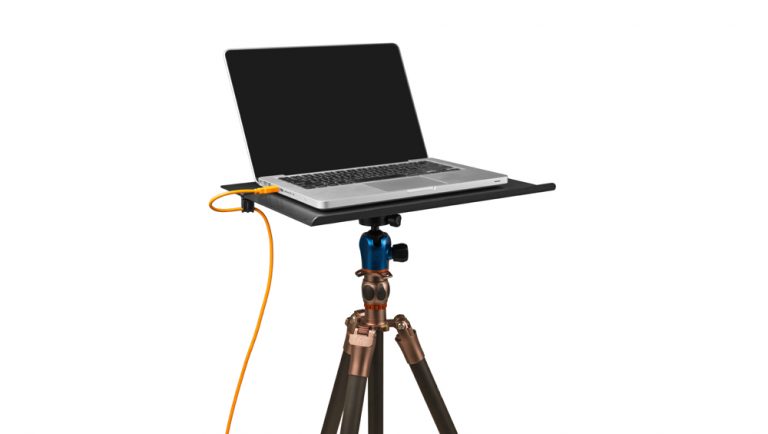 Higher-quality images and creative collaboration are two must-reasons why school and sports photographers say that shooting tethered is an essential piece of their workflow. It's easy to shoot tethered in a studio environment, but when you're on location, in ever-changing conditions shooting tethered can become more of a challenge.
Viewing images on a laptop screen can be extremely difficult due to glare, especially in bright conditions. With two innovative products from Tether Tools, shooting outdoors can feel as comfortable as a controlled, in-studio shoot. Pair your Tether Table Aero with a Aero Sunshade to block out the sun, and see your images with ease.
Tether Table Aero System

When you're out on location and need a stable laptop platform, having a Tether Table Aero is the perfect workstation for serious photographers. Constructed of T6 Aerospace Aluminum, the Tether Table Aero weighs less than 3.5 lbs. (1.58 kg), yet is tough enough to hold a maximum load capacity of 30 lbs. (13.5 kg). It comes with its own compact travel case, making it easy to store and transport. The Aero includes an LAJO-4 ProBracket that has all the mounts you could possibly need: a 1/4"-20 or 3/8" tripod mount, a 5/8" stud which is perfect for almost any light stand, even an Arca-style plate attached to the base of the bracket. This supremely functional platform is unsurpassed in stability and durability.
Tether Tools Aero Sunshade

The Aero Sunshade is the perfect solution for any photographer struggling to see their laptop screen in bright light. The Sunshade eliminates reflections and glare on the laptop screen and keeps the viewing area dark. When folded, the Aero Sunshade is compact –a round, portable package about 14″ in diameter that weighs about 1.2 lbs and carries as easily as a folded reflector. The Sunshade pops up in a flash thanks to the wire spiral structure, similar to a pop-up tent. When opened, the Sunshade has exterior dimensions of 14.5″ wide x 22″ tall x 19.5″ deep and fitting up to a 17" laptop.
The Aero Sunshade has openings for power cords and your TetherPro USB cable in the side and back so your laptop can nestle into the deepest recesses of the hood. Interior elastic net pockets on the right and left panels permit you to store pens, pads, cards, and whatever other accessories you like. The Sunshade includes an over-the-head shoulder cover, which stores in its own pouch and can be used to protect from bright light and harsh weather conditions. With this remarkable design, you really feel like you are sealed off from the outside world, with nothing to focus on but the bright, clear image in front of you. When the photoshoot wraps, the Aero Sunshade collapses flat and fits in the Tether Table's storage case for safe keeping and easy transport.
Create the perfect workstation for your laptop to increase your productivity, efficiency and professionalism.
Shop the Gear