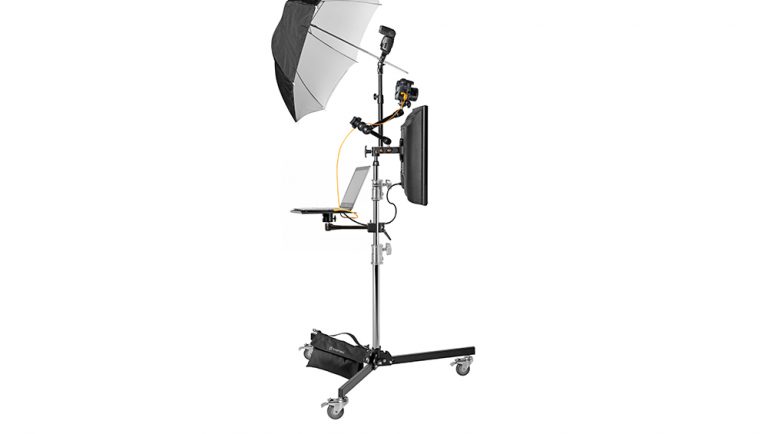 It's not uncommon for a wedding ceremony and reception to be in the same room. Often, there will be a quick break after the ceremony, to changeover from ceremony look to reception look, and as a photo booth owner you may need to setup quickly. Instead of taking several minutes to setup the photo booth, get the software running, etc. – simply set it up beforehand, keep the photo booth in the back and out of sight, then roll it in. That's right, roll it in. By adding a rolling stand to your photo booth setup, you can have the entire setup assembled, ready to go, then wheel the photo booth to the desired spot for the reception at a moment's notice. Your guests only book the photo booth for the cocktail hour? You can setup and roll in with ease, and instead of breaking down in front of all the guests you're able to roll it away out of view and take down the photo booth at your leisure.
Here's the steps for setting up your super portable, rolling photo booth:
Start with the new Rock Solid Low Boy Roller which features smooth rolling, 3" hardened rubber wheels for easy gliding and included brakes
Add a Rock Solid PhotoBooth Kit for Stands, or purchase the Ultimate Rock Solid PhotoBooth Bundle which includes a Low Boy Roller
Set up the photo booth as you normally would out of view or in the back of the room
When it's time to go, set up your backdrop (optional) and props table (optional)
Wheel in your photo booth and get the party started!
For more information on setting up your photo booth, which software is best, and more – check out the below TetherTalk.com articles.
Setting Up the Ultimate Rock Solid PhotoBooth Bundle
What Software is Best for a Photo Booth Setup?
How to Setup a Dog Photo Booth at an Event or Animal Shelter